SCOTTSDALE — Walking into Doux Belle boutique one can't help but feel they've walked into the boudoir of an Old Hollywood actress such as Grace Kelly or Audrey Hepburn. Founded by emerging designer Rachel Wagner, the chic boutique is chock full of vintage goods from evening gowns and fur jackets to home furnishings and décor. Originally from Chicago and a recent transplant from LA (where she was an actress), Rachel is creating her first collection that will debut at Phoenix Fashion Week on October 5th at Talking Stick Resort. Her collection has an air of vintage elegance with each piece given a feminine moniker like the 'Gizelle' cocktail dress, a champagne-hued sleeveless shift dress embellished with fabric strips, reminiscent of a 1920's fringed flapper frock. I recently caught up with Rachel to talk about her new collection and being a part of Phoenix Fashion Week.
You were previously an actress in LA, what inspired you to become a designer instead?
One of my favorite parts of being an actor was creating the character from the inside out. I feel that it has been a natural transition for me, nothing new or foreign to me. Styling is naturally what I do in creating a character in whole. The outfit makes the person. As I am design, I am telling a story. So exciting.
How long have you been designing?
I started actually designing sketches in February 2013. With that, I have always had a passion for clothes and playing  dressing up. Dreaming to be something bigger than myself, an illusion.
Why the name "Doux Belle?"
Doux means sweet in French, which connects the vision of my brand, and Belle comes from my nickname Bella, so then turned into Belle.
How have you been inspired by the vintage items you carry? 
Everything I buy creates the feeling of sweet and feminine and of South of France. I love beautiful shapes and sizes, elegant. My shop resembles my clothing – vintage elegance.
How did you become involved with Phoenix Fashion Week? 
I was searching for a goal for my clothing line and someone referred me to them and I applied.
How do you feel being a part of Phoenix Fashion Week has helped you as a designer? 
First, I never thought I would be selected. It was merely setting a goal to obtain. I am driven by goals. I love accomplishing something I have set my mind too.
Describe the "Doux Belle" woman. 
She is strong and confident, doesn't take 'no' for an answer. The "Doux Beller" travels the world several times a year. She is healthy in all aspects of her life and lives big, meaning lives "fully" and adventurous – a risk taker. We would see her in Paris shopping with girls or on a Safari in Africa or flying her own plane. That is why vintage elegance is so sophisticated and subtle. So perfectly unassuming. She looks like a lady but underneath the elegance is a passion for life. She is just playing her part, which she takes very serious.
What was the inspiration for your first collection that will be shown during Phoenix Fashion Week? 
My line is Designing Vintage Elegance. It's vintage evening wear for the modern woman. Lavish fabrics and well-structured lines to form a woman's body, which makes it great for all sizes.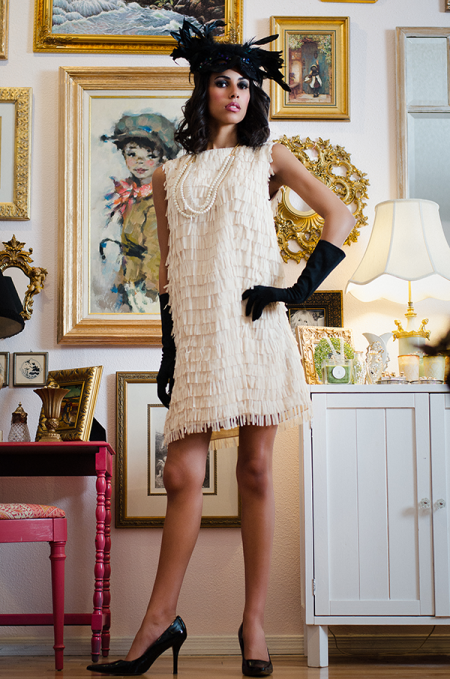 What's your favorite piece from the collection and why? 
Everyone is special to me since it is my first. I would say since I love to play dress up, would be 'Sophia' and 'Tiffany' gowns, which have not been previewed yet. Why them, they make you feel like a princess and in this day and age when women wear so many hats, it's a beautiful moment when a woman dresses like a lady or the queen for a night.
How do you see your line expanding in the future? 
I have big plans that I can't share yet but my next line is a world traveler resort line for everyday wear, with the continued vintage elegance, along with continued vintage evening wear.
If you could design a piece for anyone past or present, who would it be and what would you design? 
I would love to see Audrey Hepburn in my Tiffany gown, which was named after one of her movies.
Rachel Wagner shares 3 style tips for pulling off a vintage look. 
Head-to-toe vintage. Don't wear a beautiful vintage dress and throw on a pair of platforms.
Clean and simple hair. It's all about the lines.
Dress it up with the current trend of big and bulky necklaces. Mix old with the new, like in home décor.
For more information on Doux Belle boutique, visit douxbelle.com. For more information on Phoenix Fashion Week, visit phoenixfashionweek.com.
Chicly Yours,
The Chic Spy
(Images courtesy of Rachel Wagner)