Fashion in living color through the eyes of an African-American designer
The lack of diversity in fashion magazines and on the runway is undeniable. Designers such as Diane Von Furstenberg, Ralph Lauren, and Yves Saint Laurent have been known for adding diversity into their ad campaigns and sprinkling a little color onto the runway. Unlike many other fashion designers, they have been more open to including African American, Asian, and Latino models into their fashion shows, as well as their advertisements.
In July 2008, "Vogue Italia" did something unprecedented, what no other major fashion publication has done–they produced an "all black" issue shot by world-renowned photographer Steven Meisel. Although, claiming the issue as all black should be done loosely considering the fact that the magazine, which featured stunning models including Tyra Banks, Naomi Campbell, Liya Kebede, Jourdan Dunn, Alek Wek, and even plus-sized model Toccara Jones, also contained advertisements that featured mainly white models.
Was "Vogue Italia" exploiting the issue of diversity in fashion? Were the black models featured too European looking? Was the all black issue diverse enough? These are just a few of the quandaries that have plagued the highly coveted, best-selling issue.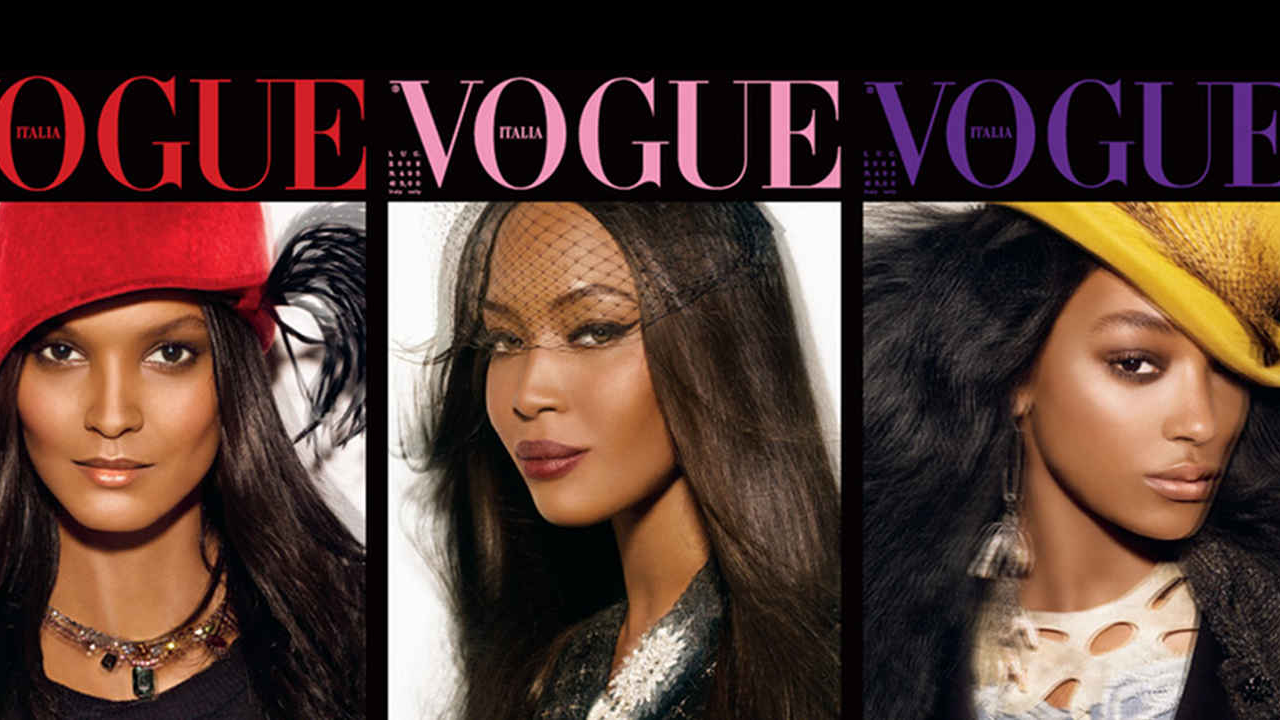 With the veterans in the fashion industry who monopolize the power positions as fashion designers and magazine editors being mostly white, it is not shocking that what we see on the catwalk and the pages of our favorite magazines reflect their image. But, in some respects, fashion is like no other trade or business. Being a form of art, it is expected that the skilled artisans, namely the fashion designers, should have free artistic expression as to who will be the face of their brand.
Many in the industry including African-American fashion designer Tori-Nichel, who has been featured in "Elle," "Essence," and "WWD," shares this sentiment. Perhaps a non-white fashion insider is better positioned to shine light on this perplexing issue, or at least share their experience.
"I thought the July issue of Italian Vogue was fabulous. I think it was great that [they] exploited black beauty, at last; and there is nothing European looking about Iman or Sessile [Lopez]," Tori-Nichel says about the controversy surrounding the all black issue. "People — black, white, or purple — have to stop being so quick to criticize when a good thing happens and enjoy the moment," she adds. "I was saddened that American Vogue did not take initiative and do it first."
There is no mistaken this New York-based designer and her chic a la natural look. The deep bronze beauty confidently sports her natural locks that already set her apart from her contemporaries. But, that has not stopped the young designer from making a name for herself in the competitive world of fashion design, where under ordinary circumstances some hot new talents have fizzled out before getting started.
But Tori-Nichel is ordinary by no means. A graduate of the Fashion Institute of Technology (F.I.T.), She was first inspired to become a fashion designer as a 7-year-old when she got her hands on her sister's Fashion By Me doll kit, which included what she describes as a "Barbie-like doll with slits on the side, fabric swatches, a glue stick, and scissors."
Later in life it would be Tom Ford's work for Gucci that would serve as motivation. "He is a visionary with the ability to execute, which ultimately made women across the world buy into the whole concept of sex and sexiness at Gucci," she says.
In 2006, she was hailed by "Forbes" as "one to watch" among up and coming fashion designers. Before launching her eponymous brand, she worked for such notable designers as Dana Buchman and Kenneth Cole. Her experience with these leading designers fine tuned her design expertise and eye for detail.
Her 70's influenced collections include "St. Barth's, Jewel of the Nile, Frida: A Love Story and City Nights," which was inspired by the sleek, alluring style of Bianca Jagger and her Studio 54 nightlife phase, which she believes epitomizes the iconic style of the glamorous vixen during that era. A blast from the past mixed with modern moxy is what makes her fresh, cutting edge designs so amazing.
The attention to detail, creativity, and quality given to each and every piece, from billowy bell-shaped frocks to contemporary architecturally-structured coats set her apart from other aspirational designers.
For Tori-Nichel, the creative process that goes into developing a collection is personal. "I have to become my concept. I have to live it, breathe it, and love it," she says. "I have to be able to take the key elements from that person, or period and put my tailored chic sensibility into it."
But, being a stellar designer with a unique look of her own isn't all that sets her apart. As an ethnic designer, if Tori-Nichel were to gain recognizable status–like Vera Wang and Tracy Reese have done–she would join a handful of designers who are non-white and have become well-known fashion designers.
However, she says that "being black" has not been a hindrance in her career. In fact, she explains that most of her experiences as a newcomer on the fashion scene have been positive, especially the good relationships she has formed with her diverse clientele, for which she credits to the fact that she is approachable and accessible. The only obstacle that Tori-Nichel admits to is financing, which accounts for her brief hiatus, what she describes as riding out the economic downturn, while she writes a children's book.
Further down the road, Tori-Nichel aspires to set up an e-commerce site to sell her fashions and eventually expand her brand to include a leather goods collection. Like other fashion designers, she uses fashion shows to present her collections to loyal clients, fashion enthusiasts and the media.
The creative entrepreneur has a criteria for selecting models to showcase her designs. "The women I prefer to choose have to reflect who my customers are and what I'm accustomed to in my life, which is diversity," she says. "I grew up in a very diverse community and I live in the most diverse city in the United States."
However, Tori-Nichel is no stranger to the controversy behind diversity in fashion. She too has been criticized for not using African American models on her Web site. "It's easier for people to criticize when they don't understand the business and the dynamics of [fashion]," she says. Nonetheless, she does believe there should be more women of color on the runway of different races and that the creative process is more in the designing of the clothing than the selection of the model.
"The companies who are the most inclusive and speak to the diverse audience will be the companies who see the most success and longevity," she says. There is truth to this, just look at branding genius Ralph Lauren who has catapulted his company into infinite success with his ability to capture a broad demographic with his many lines.
And, as for the other controversial issue that looms over the billion-dollar industry — the fact that many models that grace the runway have a gaunt appearance; she is aware that most designers prefer lithe models to exhibit their collections, but she does not find the waif look appealing.
"My customer is sexy and secure with her body whether she's a size 4 or size 10," she says. When it comes to more diversity on the runway and in magazines, Tori-Nichel believes that there is already a support of diversity among fashion editors who are open-minded. "It's hard to change someone's mindset if they have certain ideals and perceptions on an issue already," she says. "I'd much rather focus my energies on the positive and progressive thinking editors."
Image source: NBC's "Fashion Star" and Tori-Nichel