When it comes to being a fashion designer, the possibilities are endless. Whether they have a penchant for ready-to-wear or haute couture, a designer can rise to great heights, sharing their collections during fashion weeks across the globe, even seeing their designer confections worn by notable figures from Hollywood glitterati to political socialites.
One such designer is Maria Pinto, founder of the M2057 Collection, who has dressed the likes of media mogul Oprah Winfrey, actress and supermodel Brooke Shields, and even First Lady Michelle Obama. Inspired by urban architecture and fashioned from Italian fabrics, Pinto's M2057 Collection has been seen on the Fox hit series, "Empire." As if designer to the stars isn't enough, Pinto can also add philanthropist to her list of achievements as teacher at Chicago nonprofit Marwen, an organization that encourages artistic development in underprivileged youth. As part of its "No Waste" initiative, M2057 donates all fabric remnants to Marwen for its fashion design classes. I recently invited Pinto for an e-interview about her newest collection and to share her favorites in style and entertainment.
What inspires your work as a designer? I love creating beautiful things that make women feel gorgeous.
You are an artist as well as a designer, how do you feel that impacts your work as a fashion designer? Being an artist greatly impacts my fashion work. Art is an exploration of an idea both aesthetically and intellectually. Each discipline definitely informs the other.
Your designs have been seen on celebrities such as Oprah Winfrey and Brooke Shields. If you could design a custom piece for someone past or present, real or fictional, who would it be and why? Queen Elizabeth I – she was a force to reckon with, truly living in a man's world. She also seemed to appreciate wearing beautiful things.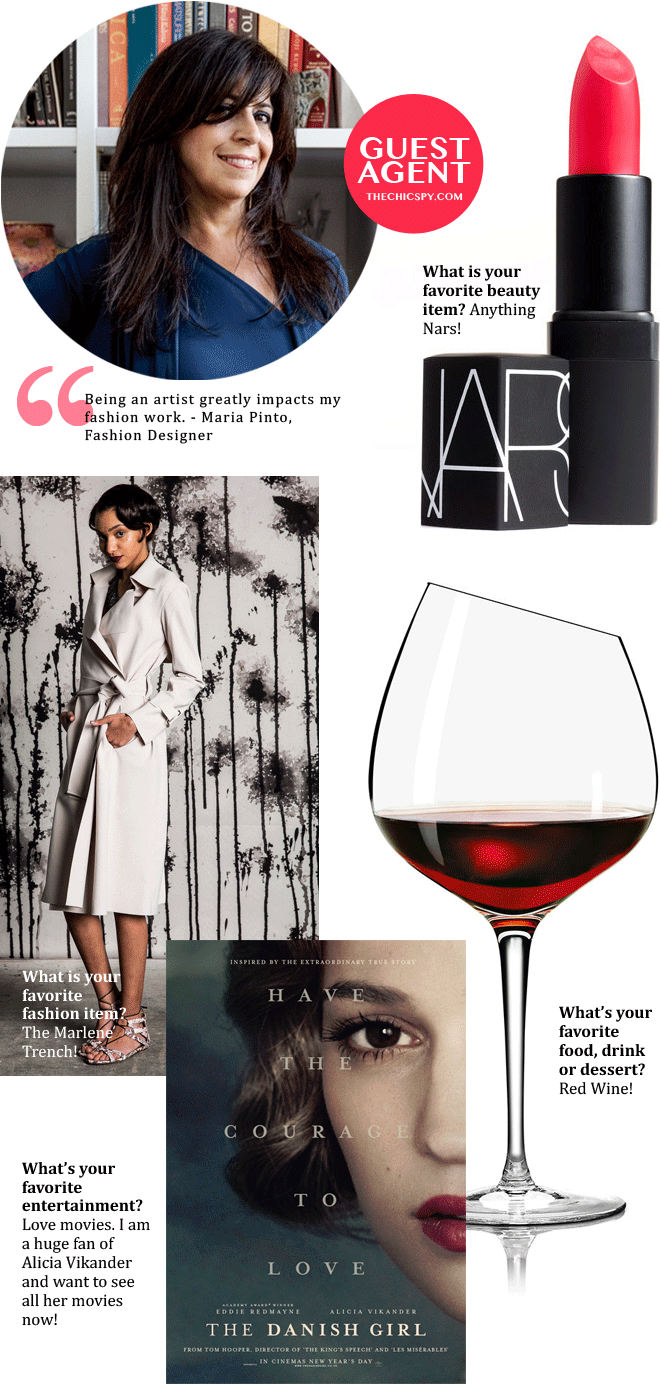 You have worked closely with Michelle Obama, notably the violet belted dress she wore when President Obama won the Democratic nomination in 2008. What is it like to design dresses for the first lady? What was so wonderful about this particular dress that became so iconic, was that it was one of the many basics I encouraged Mrs. Obama to outfit her wardrobe with – it's the type of dress that needs to be in every woman's closet. It does what the little black dress does, but in a divinely defining color.
Your collection M2057 was inspired by urban architecture. What draws you to that aesthetic? The industrial energy of a city is inspiring and I want to bring that to the collection. M2057 is about minimalism and deconstruction. Less really is more.
Pieces from your M2057 Collection were recently featured on the hit show "Empire." Which pieces and who wore them? Anika (Grace Gealey) wore the 'Calypso' dress in Magenta, and Rhonda (Kaitlin Doubleday) wore a sleek look in red – the 'Racer' sleeveless top and the 'Alex' high-waisted A-line skirt. It was a treat seeing these vibrant, powerful women wear M2057 on such a breakthrough show.
Besides being a busy designer, you are also a philanthropist. Can you tell us about the non-profit you support, Marwen? I love working with high school students interested in the arts. Marwen is a wonderful program that gives kids the opportunity to pursue different artistic fields. We donate fabric remnants to their fashion design classes and I mentor the students – some of their projects have blown my mind. They are so creative and inspiring!
Products: Nars Matte lipstick | Maria Pinto 'Marlen' trench | The Danish Girl movie
Image source: Maria Pinto