Retailers such as H&M are on the pulse of fast fashion
The Swedish retailer Hennes and Mauritz, a.k.a. H&M, is one of the leaders in fast fashion, appealing to fashion enthusiasts who want designer brands at affordable prices. Since 2004, the billion-dollar company has collaborated with some of the fashion industry's most prominent fashion labels from Paris-based designer Karl Lagerfeld and Dutch designers Viktor and Rolf to Japanese brand Comme des Garcons and Italian label Roberto Cavalli. They have even hosted a collection from eco-conscious and animal-friendly designer Stella McCartney.
When H&M launched these and other coveted brands at their store, the response was overwhelming. H&M's recent collaboration with Jimmy Choo is a prime example. On November 14 at the H&M on the corner of Geary and Powell in San Francisco, people started standing in line the night before the Jimmy Choo launch event. The line extended down to the Apple store by Stockton and Ellis, nearly two blocks away. Customers eagerly anticipated seeing, and of course purchasing, items from the new line, ranging in price $24.95-$299.
"This is like our piece of Jimmy Choo because we're students," said Alex Pratt, a 21-year-old University of San Francisco student who waited in line with her friends overnight. She explained that she had waited for this day and saved up to buy a couple pairs of shoes.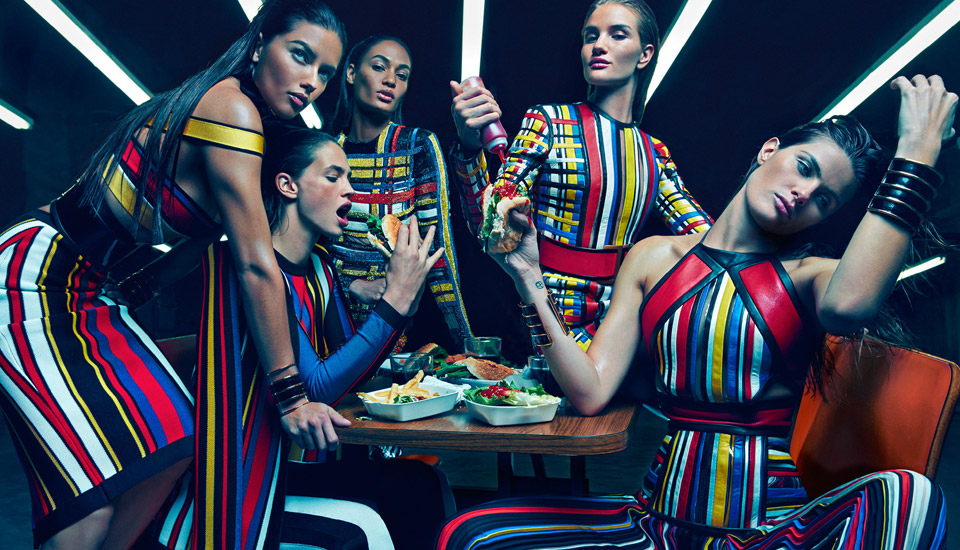 But questions and concerns have risen over fast fashion retailers such as H&M and its competitors Spanish chain store Zara and American retailer Forever 21. They have been met with scrutiny and there has been much debate and criticism in the fashion industry about the products they sell.
Jimmy Choo shoes cost upward a few hundred dollars, but start at $69.95 at H&M. Does a $69.95 pair of Jimmy Choo shoes at H&M equal a comparable $595 pair at a Jimmy Choo boutique? Probably not, nor is it meant to. But, what is saved in currency is it worth the sacrifice in other areas, like inferior materials and shoddy workmanship? The higher priced shoe is more likely handcrafted and constructed from a finer leather, assuming the cheaper shoe is even leather.
But, not all share this sentiment. Bloomingdale's sales associate, Ana Cepeda, 27, who works in the denim department, embraces the idea of fast fashion and thinks that expensive doesn't necessarily translate to higher quality. "I love that [H&M] gives you the opportunity to look fashionable without spending a lot of money," she says. "I spent $90 on a t-shirt at Bloomingdale's and it has to be hand washed or the seams become crooked."
What works for fast fashion retailers are that they are able to stay on the pulse of fashion, producing and distributing the latest trends and quickly turning around looks from fall and spring fashion weeks. They are great predictors of emerging trends, creating them at a fast pace, and getting them onto store shelves at a fraction of the cost of similar styles in department stores and boutiques. What doesn't work for the fast fashion retailer is what may happen in the process of quick turnarounds like lack of quality, creative piracy, and social injustice.
Quality of merchandise is a primary concern. Although consumer prices are low, how much of a value is it, if it can be worn only a few times and can't stand up in the washer or is uncomfortable to wear? Some of the manmade textiles even have odors, most noticeably are the petroleum based smells commonly found in handbags and shoes.
In addition, some of the apparel has no lining when there should be one; shoes have rubber soles rather than leather soles with stacked wooden heels; and some cotton shirts are so thin and sheer it's like looking through tissue. Coincidently, they have marketed this look and it has become a trend to layer these flimsy "tissue tees" as they are called.
There is also the threat of design theft. Unlike France, In America copyrights cannot be made on apparel designs, only patents on textile or technological-based designs. This leaves some high-end designers out on a limb when it comes to dealing with fast fashion retailers who have an affinity to knocking off the work of others. One such fast fashion retailer is Forever 21, who has been accused of infringing on intellectual property rights by notable designers Anna Sui and Diane von Furstenberg.
Another issue pertains to the civil rights of workers regarding how and where fast fashion is produced. Unfortunately, fast fashion retailers are more likely to utilize sweatshop type work environments, subjecting the laborers who create their merchandise to unfair and unsafe working conditions.
There is, however, some validity to fast fashion considering it caters to a segment of the consumer market that desires trendy fashions but want affordable prices. These retailers more readily listen to their customers and respond with immediacy. And, although there is a propensity for this to be a fad as more ingenious brand marketing and strategies are developed, growing populations and a pop culture crazed society will put fast fashion at the epicenter of how mainstream America views fashion.
It is also likely that the notion of fast fashion will evolve into another concept that will help retailers reach a larger segment of their market in a quicker time, making a bigger profit. What makes retailers like H&M so successful is that they are responding to their customers. According to Forbes, "Fast fashion retailers are growing at about three to four times the rate of the sluggish apparel industry as a whole." Evidently, they are producing and consumers are buying.
Rose Marnell, 23, graduate student at the Academy of Art University says that what she likes about H&M is that she can get trendy items without spending a lot of money. "I love to rotate things out of my wardrobe frequently, so it doesn't make since to spend a lot of money on them," she said. Marnell also thinks it is hit or miss and makes a point to look for quality items. She recently found a sleeveless sweater and a wool military-inspired coat. She describes the sweater as cheaply made with a loose knit and says she thinks it will last only one or two seasons. But she finds the 60% wool, 40% Viscose coat to be sturdier and expects to have it for years.
Disposable fashion is becoming commonplace. Like a convenience store that stocks up on merchandise to meet the immediate needs of their customers, so do fast fashion retailers. There is reason to question whether quality, design integrity, and civil rights are jeopardized when there is a quick turnaround on the production of fashion. As the saying goes, "You get what you pay for."
Image source: hm.com (updated 2017)