A hot new show premiered on the CW in April called "Containment," about a deadly outbreak in Atlanta. After watching you'll likely be addicted. I caught up with actress Kristen Gutoskie to get intel on her new series, as well as her style faves.
How did you become interested in acting? It just happened organically. I was asked to sing in a school play. In order to do that I had to play the part of the singing turtle. Breakthrough role of my career of course. One rehearsal in, I was hooked.
What was it like to audition for the role of school teacher Katie Frank in "Containment" and how did you learn you got the part? I auditioned five times. First for Katie, then Jana, then both characters at once. Then I was tested for Jana, and at the last minute they asked me to prepare Katie too, so I tested for both characters. Then at the final test I was brought back for Katie. My agents called me when I got the part and I ran around the house, then naturally called my parents and screamed in their ear over the phone.
How did you do to prepare for the role? Took a lot of vitamin C and relearned my times tables.
Do you relate with your character, if so, how? I relate to the teacher in her, I have mentored young teens with a nonprofit in Los Angeles for some time. I also share her love for music (she teaches the kids to sing for patients), her compassion, her vulnerability, and dry sense of humor—her no nonsense side, which she uses more with Jake than her students.
If you were in a similar quarantine situation as Katie and you could only take five things with you to the containment center, what would you take? Headphones, phone, comfy sneakers, a good book, jumbo sized purel, and an impenetrable bodysuit of some sort. I cheated, that was six.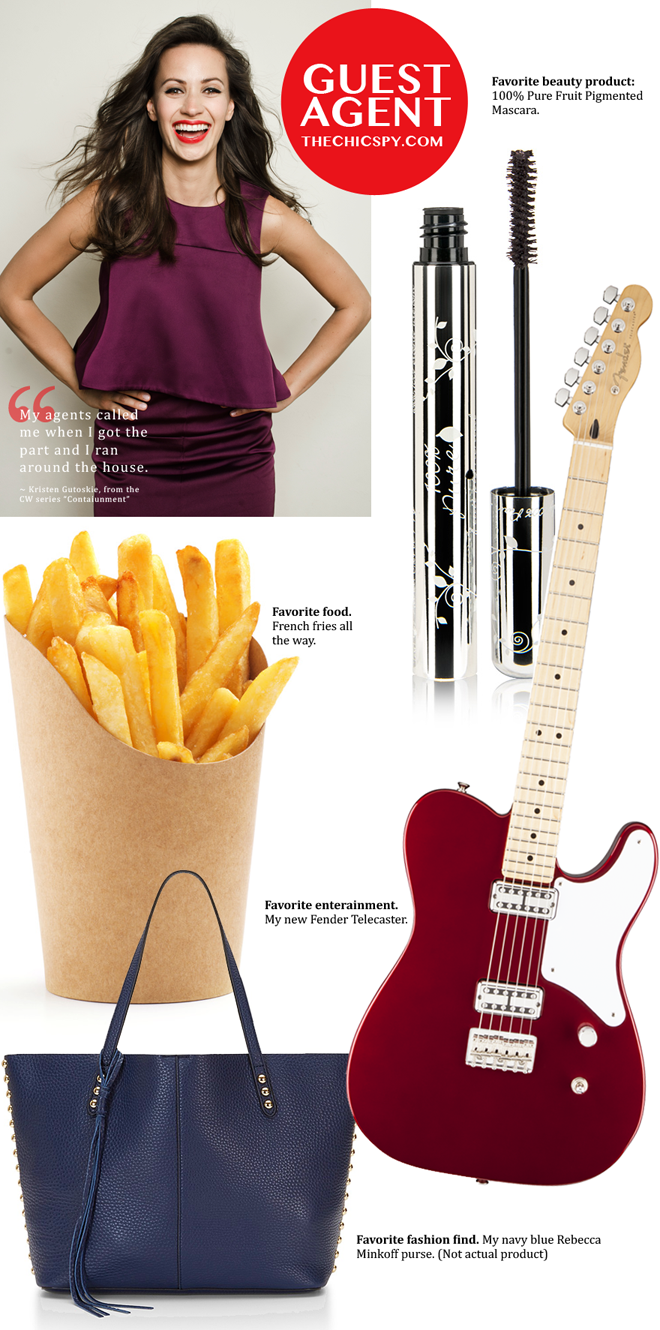 Rebecca Minkoff unlined tote in Moon | 100% Pure Fruit Pigmented Ultra Lengthening Mascara in Black Tea| Fender Telecaster Guitar
What would your fans be shocked to know about you? I can pick things up with my toes.
What is the best advice you've been given as an actress? Trust your instincts and use your heart not your head.
Finish this statement: When I'm not acting, I'm … Sleeping
What is your style profile: Classicist, Minimalist, Mademoiselle, Contemporary, Glamazon, Bohemian, or Rocker? Minimalist
Favorite cocktail. Caesar—Canadian cocktail, basically a better version of a Bloody Mary.
Favorite vacation spot. My family cottage.
If you were a Chic Spy Agent, what would be your code name? Special K
Watch the CW series "Containment" on Tuesdays at 9|8C.
Image source: Kristen gutoskie (photo by Irvin Rivera), and Warner Bros.