Kenyan beauty inspired by Sudanese model Alek Wek
There has long been barriers in fashion and film when it comes to women of color. But recently, the media has been having a major Hollywood crush on rising star Lupita Nyong'o, who dazzled us with her elegant red carpet style and mesmerized us with her eloquent acceptance speeches. In stellar style, the Screen Actors Guild Award winner and Academy Award-nominee took to the podium at the Essence 7th Annual Black Women In Hollywood Luncheon after winning Best Breakthrough Performance for her role in Steve McQueen's 12 Years A Slave.
As part of her acceptance speech, the Kenyan beauty and Yale graduate read a letter she received from a young girl. The letter read, "I think you're really lucky to be this black but yet this successful in Hollywood overnight. I was just about to buy Dencia's Whitenicious cream to lighten my skin when you appeared on the world map and saved me."
Nyong'o expressed how the letter touched her, "My heart bled a little when I read those words," she said. "I remember a time when I too felt unbeautiful. I put on the TV and only saw pale skin, I got teased and taunted about my night-shaded skin." She recalled a turning point to self-acceptance when she saw the work of Sudanese model Alek Wek, "A celebrated model, she was dark as night, she was on all of the runways and in every magazine and everyone was talking about how beautiful she was."
Wek has been featured in ads for Clinique and walked the runway for designers such as Chanel, Calvin Klein, and Chritian Lacroix. She was also the first African model to appear on the cover of Elle in 1997,
Now, Nyong'o is on the cover of magazines including the March 2014 issue of Dazed & Confused (above) and the New York Magazine's Spring Fashion Issue (below via New York Magazine).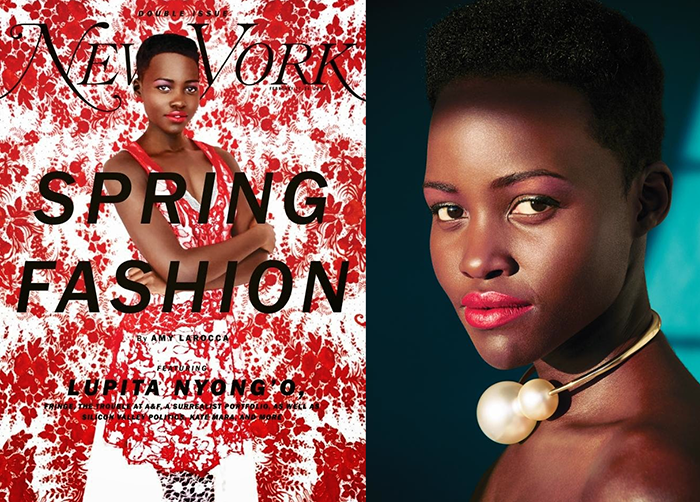 But it would be words from her mother that would linger with Nyong'o throughout life and serve as inspiration to embrace her black beauty. "What is fundamentally beautiful is compassion for yourself and for those around you," Nyong'o explained. "That kind of beauty inflames the heart and enchants the soul."
And for all young girls who question their beauty, she offered words of encouragement, "That you will feel the validation of your external beauty but also get to the deeper business of being beautiful inside. There is no shade to that beauty."