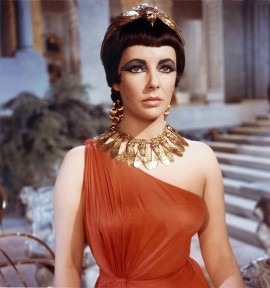 Elizabeth Taylor in title role of film "Cleopatra" (1963).
Global — There were many losses this year; people we never knew and those that were icons whose work and contributions will live on forever, from Apple founder Steve Jobs to British songstress Amy Winehouse. Hollywood too, has loss one of it's most iconic figures to grace the big screen, Elizabeth Taylor, who starred in such films as "Cat on a Hot Tin Roof" (1958) and "Cleopatra" (1963).
Born in London, England to American-born parents, Taylor is considered Hollywood royalty and revered as a classic beauty from her era. She is one of the few child stars, having starred in award-winning "National Velvet" (1944) along side Mickey Rooney and Angela Lansbury at 12-years-old, to successfully transition her career into adulthood. She even became an entrepreneur with the launch of three perfumes including "White Diamonds," "Passion," and "Passion for Men.".
A piece from the Elizabeth Taylor Collection that went up for auction earlier this month at Christie's.
Elizabeth Taylor, often heralded as one of the most beautiful actresses of her time, may be most notable for having double-lashed violet eyes, being BFFs with the King of Pop Michael Jackson, and an affinity to opulent jewels. She was also known for having many husbands, eight to be exact. Her first husband was Conrad Hilton Jr., the son of Hilton Hotel founder Conrad Hilton and one she married twice, actor Richard Burton, who gifting her with a 69.42 carat pear-shaped diamond.
But more than all the hoopla that filled the gossip rags about the Oscar-winning actress, her biggest impact was philanthropic. As a social activist and humanitarian, Taylor championed the cause of HIV and AIDS, co-founding the American Foundation for Aids Research in 1993 after her close friend, actor Rock Hudson died due to complications from the disease.

Elizabeth Taylor as Maggie Pollitt in "Cat On A Hot Tin Roof" (1958).
Taylor's legacy will undoubtedly endure like the actresses that have passed before her including Audrey Hepburn, Katherine Hepburn, and Lena Horne, to name a few. They were incredibly beautiful and talented women who showed us what it meant to have grace, sophistication, and panache. And now we bid adieu to Taylor, the last of what it seems to be the zeitgeist of the Hollywood siren era. Au revoir Elizabeth Taylor.
Check out this clip of her most memorable movie moments:
[youtube]https://www.youtube.com/watch?v=wOathC56zFk[/youtube]
Here are some famous Elizabeth Taylor quotes:
Big girls need big diamonds.
I fell off my pink cloud with a thud.
I've only slept with men I've been married to. How many women can make that claim?
It's not the having, it's the getting.
People who know me well, call me Elizabeth. I dislike Liz.
Read more of her quotes at The Telegraph.
Chicly Yours,
The Chic Spy
(Photo credits: thecoveted.com, ezinemark.com, and bartboehlert.com)