Modeling has such an allure that supermodels such as Cara Delevingne and Coco Rocha have garnered a following rivaling that of Hollywood actors. That's why for my latest guest agent, I invited model Sam Beaulieu.
The 19-year-old male model, who has a James Dean look and is repped by multiple modeling agencies including Wilhelmina, D Management Milan, and Agency Arizona—shares his style faves and dishes intel on what it's like to be a model.
What inspired you to become a model and how long have you been modeling? I got randomly scouted a little over two years ago.
What is the most challenging aspect of what you do as a model? Mostly the down time. I go long periods without working.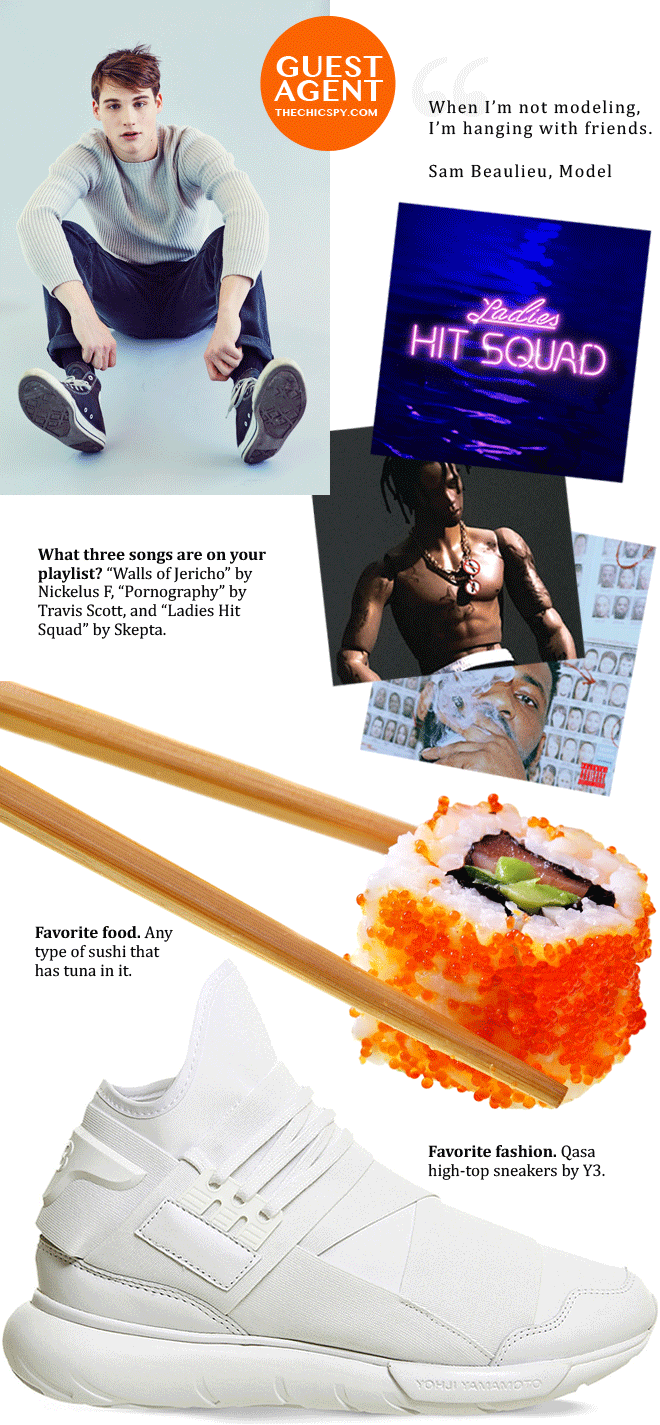 Favorite fashion. Adidas Y3 Qasa multi-strap high-top trainers.
Favorite food. Any type of sushi that has tuna in it.
What are three songs on you music playlist? "Walls of Jericho" by Nickelus F,  "Pornograph" by Travis Scott, and "Ladies Hit Squad" by Skepta.
Are you inspired by other models or actors? No, I try to inspire myself.
What are some of the brands you have modeled for? French Connection, farfetch.com, and I've worn plenty of designers for magazine shoots.
Who's your Hollywood heartthrob? Alicia Vikander.
How do you stay fit? Just from walking all over cities.
What is a myth about models you would like to dispel? That skinny models have eating disorders, when it takes a lot of work to get a models body.
Finish this statement: When I'm not modeling, I'm … I'm hanging with friends.
Image source: Sam Beaulieu