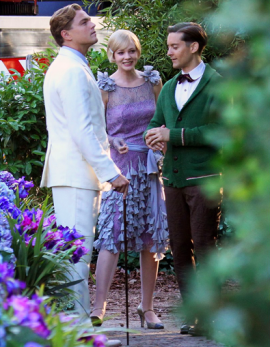 Leonardo DiCaprio, Carey Mulligan, and Tobey Maguire on the set of The Great Gatsby. (Photo credit: justjared.com)
Global — Who isn't desirous to peak inside the opulent and lavish, yet sometimes destructive world of the rich and famous? The trappings of the nouveau riche is a lure that's sometimes difficult to circumnavigate. But, who says it's all to be avoided? The Great Gatsby, starring Leonardo DiCaprio (Jay Gatsby) and Carey Mulligan (Daisy Buchanan) is slated to hit the big screen in 2012 and with it, a revival of 1920's fashion. I'm highly anticipating the style trends to hit the catwalks and the sidewalks, from relaxed white linen suits and perfectly parted hair for the gents to frilly frocks and bobbed coifs for the ladies. J'adore!
"Chearful Little Earful" from
Flapper Doodle
.
Here's a few musts to kick start your 20s-inspired lifestyle:
Brightly colored flapper dresses or drop-waist frocks.
Cloche or oversized floppy hats.
Flower or feather-embellished headbands.
Strands of pearls draped around your neck.
Saturday mornings playing tennis.
An iPod filled with jazz tunes from the greats.
Chicly Yours,
The Chic Spy