[tps_title]The Devil Wears Prada (2006)[/tps_title]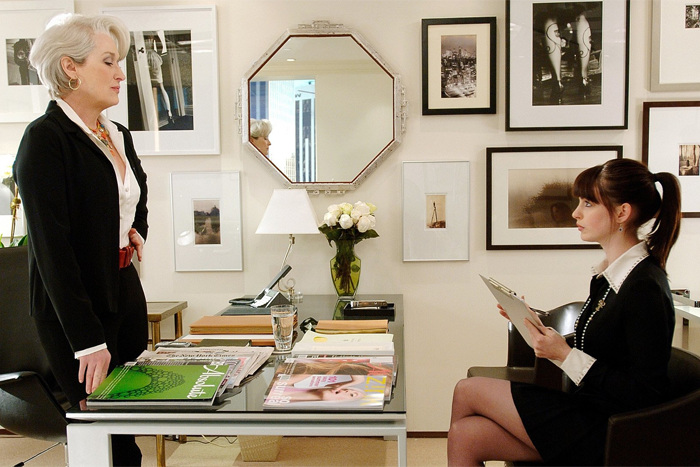 One of my favorite film opening scenes is from The Devil Wears Prada, when Andy Sachs played by Anne Hathaway, nonchalantly dresses for a job interview at the high-fashion magazine "Runway." Meanwhile, other unknown ladies who presumably already work at the magazine, are strategically dressing head-to-toe in designer confections from the finest lingerie to the chicest stilettos. The designer roster in this film, which was styled by costume designer Patricia Field, reads like a fashion Who's Who with more than 100 designer brands used and a million dollar budget. Coveted labels featured included Chanel, Donna Karan, and of course, Prada.
My ultimate favorite fashion scene in the film is when Andy chuckles while Miranda, played by Meryl Streep, and her fashion minions are styling a look for a magazine spread and are trying to decide between two belts that appear to be the same color. Miranda sharply gives her the rundown on how the industry chooses colors each season. Using Andy's cerulean blue sweater as an example, Miranda ridicules Andy's "blatant disregard" for what they do and implies that she fished her sweater out from a clearance bin. With its witty dialogue and stellar style, this movie is one of the best fashionable films of the 21st Century.
— The Chic Spy
[tps_footer]
Image source: 20th Century Fox, Columbia Pictures, Warner Bros. Pictures, Touchstone Pictures, and New Line Cinema.
[/tps_footer]